Two things that is so American, one is coca cola and another is jeans.  Jeans is undeniably the most popular outfit of our time.  So how did it all start?  First thing first, jeans was not an invention of America, but credit definitely goes to America for popularizing it.
1700s
Research on the trade of jean fabric shows that it emerged in the cities of Genoa, Italy, and Nîmes, France. Gênes, the French word for Genoa, may be the origin of the word "jeans".  In Nîmes, weavers tried to reproduce jean fabric but instead developed a similar twill fabric that became known as denim, from de Nîmes, meaning "from Nîmes".  The Genoese navy equipped its sailors with jeans, as they needed a fabric which could be worn wet or dry.  By the 17th century, jean was a crucial textile for working-class people in Northern Italy.
May 20, 1873 – The Birth of Jeans
Levi Strauss, as a young man in 1851, went from Germany to New York to join his older brothers who ran a goods store. In 1853, he moved to San Francisco to open his own dry goods business. Jacob Davis was a tailor who often bought bolts of cloth from the Levi Strauss & Co. wholesale house. In 1872, Davis wrote to Strauss asking to partner with him to patent and sell clothing reinforced with rivets.  The copper rivets were to reinforce the points of stress, such as pocket corners and at the bottom of the button fly. Levi accepted Davis's offer, and the two men received US patent No. 139,121 for an "Improvement in Fastening Pocket-Openings" on May 20, 1873.
Initially, Levi's jeans were simply sturdy trousers worn by factory workers, miners, farmers, and cattlemen throughout the North American West. During this period, men's jeans had the fly down the front, whereas women's jeans had the fly down the left side. When Levi Strauss & Co. patented the modern, mass-produced prototype in the year 1873, there were two pockets in the front and one on the back with copper rivets. Later, the jeans were redesigned to today's industry standard of five pockets including a little watch pocket and copper rivets.
20th century
During World War II, US soldiers introduced jeans to the world, by wearing them off duty.
After James Dean popularized them in the movie Rebel Without a Cause, wearing jeans became a symbol of youth rebellion during the 1950s. During the 1960s the wearing of jeans became more acceptable, and by the 1970s, it had become general fashion in the United States for casual wear.
Also, during 50s, teenagers embraced blue jeans, when Hollywood movies used jeans as a fashionable symbol of rebellion against the status quo. Pop culture "bad boys" such as James Dean and Marlon Brando popularized jeans in their films, wearing denim as they shook up the squares.
The 1960s launched the beginning of the hippie age. The youthful, free love movement that rocked American culture embraced the casual blue jean, which was seen to represent freedom from more structured clothing.  Embroidery, bright colors, stone washing, rhinestones , and patches were just some of the hip jean trends of the time. Popular cuts included bell bottom flares and low-rise hip huggers. Double denim also made its first real appearance as a fashion trend during the 1960s, and jean jackets became standard hippie wear, and were often decorated with sew-on decals.
In the early 1980s, the denim industry introduced the stone-washing technique developed by GWG also known as "Great Western Garment Co." which helped to bring denim to a larger and more versatile market.
Same time around, Calvin Klein brought denim to the forefront of every fashion designer's mind. Designer jeans became a true status symbol in popular culture, and brands including Calvin Klein, Jordache, and Gloria Vanderbilt were among the most coveted by fashion girls and guys.  Stone wash, acid wash, and ripped jeans were some of the most desired looks of this decade, along with the new, skinnier leg cuts that were tapered at the ankle. Even men got in on the designer denim trend in this decade, and started to show up more in jeans advertising.
Likewise, with more cultural evolution, there came baggy jeans, skinny jeans, higher waists, cropped legs, and what not all.
and here we are.  Jeans is love, jeans is life.
What's Special Today: January 25th
Events and Observances
Sonam Lhosar
What had happened on this date in history
1915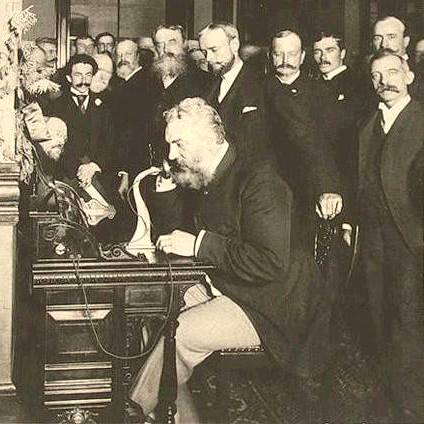 Alexander Graham Bell inaugurates U.S. transcontinental telephone service, speaking from New York to Thomas Watson in San Francisco.
1947
Thomas Goldsmith Jr. files a patent for a "Cathode Ray Tube Amusement Device", the first ever electronic game.
1964
Blue Ribbon Sports, which would later become Nike, is founded by University of Oregon track and field athletes.
1980
Mother Teresa is honored with India's highest civilian award, the Bharat Ratna.
2003
Invasion of Iraq: A group of people leave London, England, for Baghdad, Iraq, to serve as human shields, intending to prevent the U.S.-led coalition troops from bombing certain locations.
2011
The first wave of the Egyptian revolution begins throughout the country, marked by street demonstrations, rallies, acts of civil disobedience, riots, labour strikes, and violent clashes.
Famous Birthday
Alicia Keys
January 25, 1981
Virginia Woolf
January 25, 1882

What's Special Today: January 24th
What had happened on this date
1857
The University of Calcutta is formally founded as the first fully fledged university in South Asia.
1908
The first Boy Scout troop is organized in England by Robert Baden-Powell.
1946
The United Nations General Assembly passes its first resolution to establish the United Nations Atomic Energy Commission.
1972
Japanese Sgt. Shoichi Yokoi is found hiding in a Guam jungle, where he had been since the end of World War II.
1984
Apple Computer places the Macintosh personal computer on sale in the United States.
1990
Japan launches Hiten, the country's first lunar probe, the first robotic lunar probe since the Soviet Union's Luna 24 in 1976, and the first lunar probe launched by a country other than Soviet Union or the United States.
2009
Cyclone Klaus makes landfall near Bordeaux, France, causing 26 deaths as well as extensive disruptions to public transport and power supplies.
Famous Birthday
Sharon Tate
January 24, 1943

Luis Suárez
January 24, 1987
What's Special Today: January 23rd
Events and Observances
Armed Police Force Day (Nepal)
What had happened on this date
1556
The deadliest earthquake in history, the Shaanxi earthquake, hits Shaanxi province, China with the death toll as high as 830,000.
1656
Blaise Pascal publishes the first of his Lettres provinciales.
1912
The International Opium Convention is signed at The Hague.
1957
American inventor Walter Frederick Morrison sells the rights to his flying disc to the Wham-O toy company, which later renames it the "Frisbee".
1986
The Rock and Roll Hall of Fame inducts its first members: Little Richard, Chuck Berry, James Brown, Ray Charles, Sam Cooke, Fats Domino, The Everly Brothers, Buddy Holly, Jerry Lee Lewis and Elvis Presley.
1998
Netscape announced Mozilla, with the intention to release Communicator code as open source.
Famous Birthday
Subhas Chandra Bose
January 23, 1897