Instagram and Facebook are DOWN
Thousands of users claim they are unable to refresh their feeds or upload photos or videos on both social media sites
Instagram and Facebook both appear to be suffering major outages, with thousands of app users claiming they are unable to refresh their feeds or upload photos or videos.
Instagram, which is owned by Facebook, has been experiencing issues since around 2pm GMT, according to Downdetector, which monitors online outages.
The majority of users reported problems with their news feeds as well as unable to post anything as such on their walls or the page they handle, while others are also experiencing problems logging into the app and accessing the Stories feature.
More to follow…
Surya Nepal is highest taxpaying company
Surya Nepal has been honored for being "highest taxpaying company of the fiscal year 2018/19"
Finance Minister Dr Yuvraj Khatiwada  has honored the top companies in 15 categories amidst a program organized by the Inland Revenue Department on the occasion of the 7th National Tax Day today in Capital, where Surya Nepal has been honored as highest taxpaying company of the year.
Surya Nepal Private Limited (SNPL) is an Indo-Nepal-UK joint venture, which started operations in Nepal in 1986. SNPL, a subsidiary of ITC Ltd, India, is the largest private sector enterprise in Nepal. The balance shares are held by dispersed Nepalese shareholders and British American Tobacco, UK.
The company is currently engaged in the business of Cigarettes, Safety Matches and Readymade Garments in Nepal.
Nepal Government marks Mangsir 1 as National Tax Day and celebrates the day by honoring tax payers from different sectors and industries under 15 categories.  The highest taxpayers were honoured also to promote the taxpaying culture.
Rape-alleged speaker, Krishna Bahadur Mahara, resigns from the post
Speaker of the House of Representatives, Mr. Krishna Bahadur Mahara, has resigned from the post on the moral ground, "until the investigation process is completed against the rape allegation"
He has submitted his resignation letter to vice-speaker.  Meanwhile, NCP had as well asked Mr. Mahara to quit from his speaker position and also to step down as parliamentarian to ease and facilitate the investigation.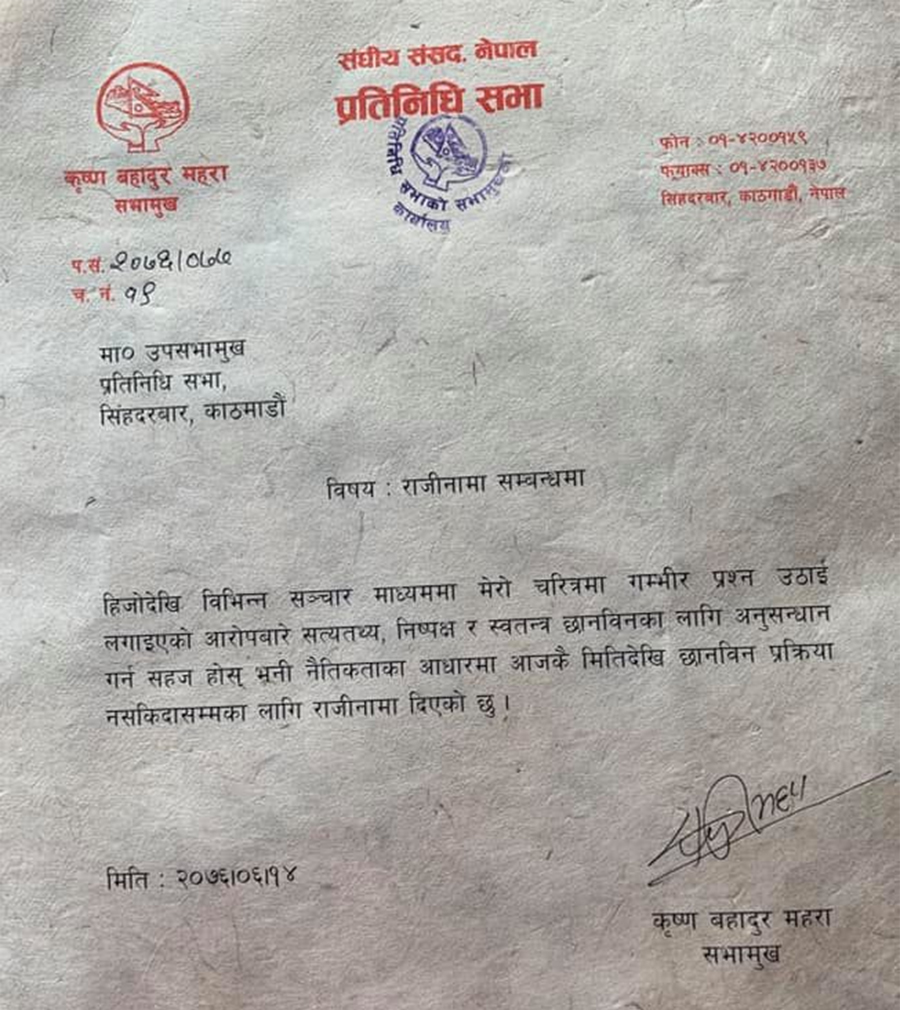 CA students in India protesting: What's the issue?
Last week, the ICAI (Institute of Chartered Accountants of India) published "Suggested Answers" to the May 2019 exams. When the students compared the Suggested answers provided by the Institute with their own copies of certified answer sheets which they obtained under RTI (Right to Information Act), they found differences in the total marks in their answer sheet from that in the mark sheet. Furthermore, cases of marks omission were also found which clearly showed the negligence from the side of ICAI. This resulted in outrage in social media followed by heavy protests against ICAI.
Rahul Gandhi, Indian congress leader, also showed his support on the issue through his tweet that said,
"Across India 12 Lakh CA students are fighting for their right to have their exam papers re-evaluated by ICAI. Given the widespread reports of errors in the evaluation of answer sheets, this demand is justified & should be supported by all political parties."
What are the demands of the protest?
Regulation 39(4) of Chartered Accountants Act, 1949 of India has made provision for verification of answer sheets which include checking whether the answer book(s) compilation is complete, if any question has been unvalued or if there is any totaling error. However, it does not allow for re-examination of the answers itself. Simply put, students can apply for re-totaling only- not  the rechecking of their answer sheets, as per the existing regulation.
Due to the marking issue, students have been demanding reform in marking system, the amendment of Regulation 39(4) being the main demand , which will allow the rechecking of their answer sheets.
Following is the Charter of Demands as per Economic Times:
a)  Provide the option of Re-Correction of the answer sheet
b)  Penalise the exam evaluators if mistakes are found in their work
c)  Give Question Booklet of MCQs and Disclose correct Answers
d)  Centralised Evaluation
e)  Allow students to mark the circles on OMR sheets in exams with pens
Response from ICAI:
On September 21, 2019, ICAI  addressed the issue by announcing various reforms in marking system which included Digital Evaluation, Central Evaluation, Machine- based Evaluation, Step wise marking and Mandatory online tests for empanelment of examiners.
However the students did not stop. They continued their protests as their main demand for amendment of Regulation 39(4) was not still addressed. Following the huge protests, ICAI made another announcement on September 24 which said,
" A section of the students led by agencies external to the Institute have been demonstrating outside the ICAI premises from 23rd September, 2019. In order to empathize the genuine concern, if any, of the students, they were given an opportunity to meet the officers and council members on 24th September, 2019 wherein more than ten representatives including ICAI members, non-members and students participated in the discussions. The representatives of agitators submitted that their only demand is to allow for provision of re-checking of answer books in the Chartered Accountancy examinations."
The Institute further added to call off the agitation, and advised the students to concentrate on their studies for forthcoming exams and not be carried away by such issues.
Recent Update on the issue:
ICAI (Institute of Chartered Accountants of India) made an announcement on September 26,2019(Thursday), to constitute a High Level Independent Committee to look into the examination process and regulations governing  CA examinations including Regulation 39(4) of Chartered Accountants Regulations, 1988. The committee comprises of Dr. P.C. Jain, Govt. Nominee, Convenor; Justice (CA.) Anil R. Dave, Former Judge, Supreme Court of India; CA. Ved Jain, Past President, ICAI; CA. Amarjit Chopra, Past President, ICAI and CA. (Dr.) Girish Ahuja, Renowned Educationist.
The students have called off the protests after this announcement, and are hoping for a positive change from the side of ICAI.