Nepal imports more than half of its electricity from India
According the news published in Nepali Times, Nepal imported 653MW electricity from India last Friday, the biggest amount so far since the country ended powercuts three years ago. The Nepal Electricity Authority (NEA) had to import because the total demand for electricity reached 1,243MW last week because of winter peak load and falling production from run-of-river schemes due to low water volume in rivers.
According to NEA, the import is necessary to fulfill immediate needs and to prevent the economic cost of resuming power cuts. "If we compare the cost of importing 500MW electricity to the loss that Nepal's industries would incur without that electricity, then the loss is much higher," said Ghising. "It will take many years for us to construct 500MW hydropower plants. But the power is immediately available for import, which is economically more beneficial for us."
Last year Nepal spent Rs20 billion importing electricity from India, on top of the Rs90 billion in petroleum imports. 
---
SINCE YOU ARE HERE:
Join Our Team:
Show Your Support: 
Running a media is a costly work, especially when are quality driven.  Show your support by:
SHOP TO SUPPORT

:  CLICK HERE to explore our e-commerce page and make a purchase.

DONATION

:  Your small donation can make a difference.  Express your interest by mailing us to [email protected]
Help Us Getting Better:
We put our utmost effort in creating genuine contents, factual and rational, and been working  hard to give best experience to our readers and users.  However, there can be mistakes, glitches and lapses.  Help us getting better by correcting us whenever you notice false information or wrong facts in our posts.  You can do that by commenting on the post or by mailing us in [email protected].  Also, if you experience any bug in our website or any kind of issue in our website, let us know immediately by mailing us.
Thank you for your time.  We are better together.
Surya Nepal is highest taxpaying company
Surya Nepal has been honored for being "highest taxpaying company of the fiscal year 2018/19"
Finance Minister Dr Yuvraj Khatiwada  has honored the top companies in 15 categories amidst a program organized by the Inland Revenue Department on the occasion of the 7th National Tax Day today in Capital, where Surya Nepal has been honored as highest taxpaying company of the year.
Surya Nepal Private Limited (SNPL) is an Indo-Nepal-UK joint venture, which started operations in Nepal in 1986. SNPL, a subsidiary of ITC Ltd, India, is the largest private sector enterprise in Nepal. The balance shares are held by dispersed Nepalese shareholders and British American Tobacco, UK.
The company is currently engaged in the business of Cigarettes, Safety Matches and Readymade Garments in Nepal.
Nepal Government marks Mangsir 1 as National Tax Day and celebrates the day by honoring tax payers from different sectors and industries under 15 categories.  The highest taxpayers were honoured also to promote the taxpaying culture.
Rape-alleged speaker, Krishna Bahadur Mahara, resigns from the post
Speaker of the House of Representatives, Mr. Krishna Bahadur Mahara, has resigned from the post on the moral ground, "until the investigation process is completed against the rape allegation"
He has submitted his resignation letter to vice-speaker.  Meanwhile, NCP had as well asked Mr. Mahara to quit from his speaker position and also to step down as parliamentarian to ease and facilitate the investigation.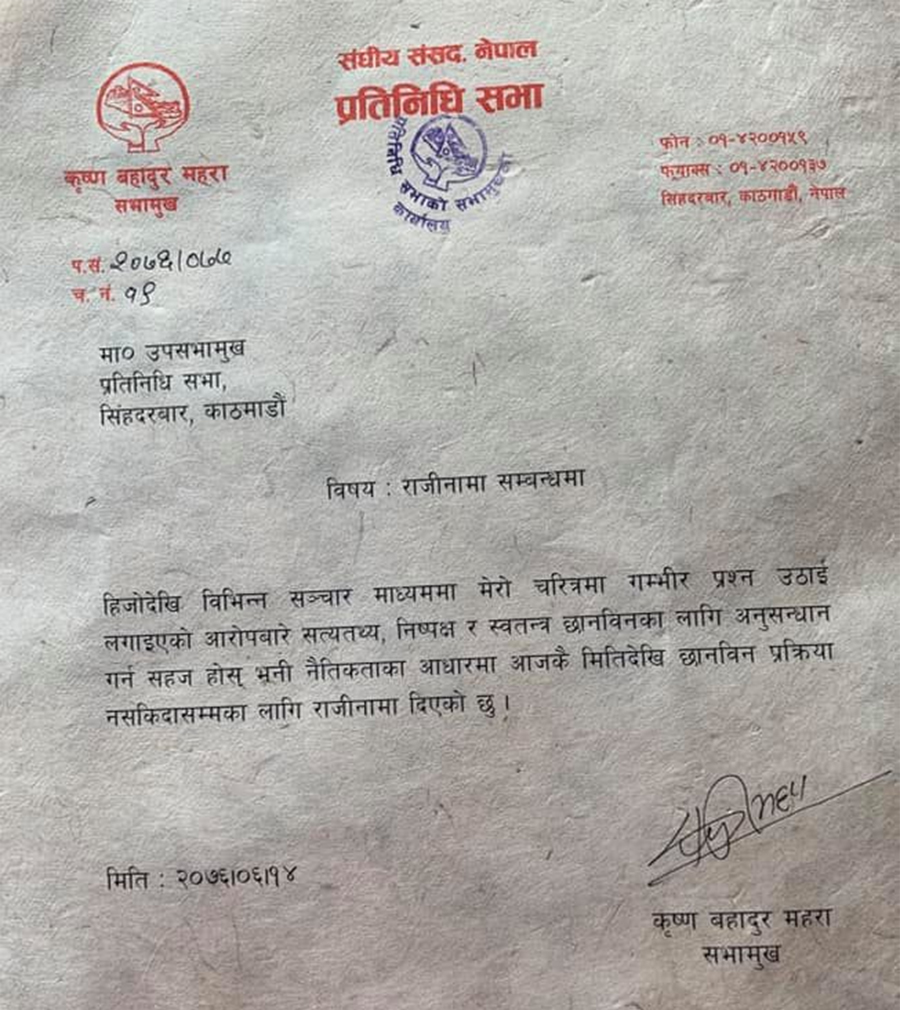 Chinese men arrested for stealing millions from ATMs in Nepal
Police have arrested five Chinese nationals in connection with the country's biggest cyber heist in the banking sector and recovered approximately Rs 12.63 million stolen from several ATMs in Kathmandu.
Police have arrested five Chinese nationals in connection with the country's biggest cyber heist in the banking sector and recovered approximately Rs 12.63 million stolen from several ATMs in Kathmandu.
Those taken into police custody are Xu Luc Li, 36, Lin Jianmeng, 39, LuoJialei, 40, Zhu Lianggang, 32, Qui Yunging, 30, and Chen Bin Bin, 35.  Xu Luc Li was arrested from Tribhuvan International Airport last night.   Meanwhile, the Nepali nationals — operator of Dexo Money Changer Bednath Lamichhane, operator of Nepalaya Money Changer Roshan Pradhan Shrestha and Manager of Nepalaya Money Changer Rewati Dawadi — were arrested today for allegedly giving foreign currency to the hackers in exchange for the looted money. The three money changers are based in Thamel.
Nepal Rastra Bank stated that a total of Rs 16.87 million was looted in the cyber attack from Nepal by the group.  Nepal Electronic Payment System has claimed that Nepali banks lost over Rs 35 million in the cyber heist.
The hackers, according to police, used electronic cards of at least six banks — NIC Asia, Siddhartha, Janata, Global IME, Prabhu and Sunrise — and used them at ATMs of three banks — Nabil, Nepal Investment and Nepal SBI — to illegally withdraw the money in Nepal.
Police have so far recovered around Rs 12.63 million from the five Chinese nationals and rest of the cash looted from Nepal is suspected to have been carried away by the three absconders.
How the money was stolen
The hackers allegedly injected malware into Nepal Electronic Payment System (NEPS), a shared card switching system of 17 banks, to drain the cash from the ATMs.  NEPS was established by a group of Nepali banks to process cash withdrawal requests.  It basically carries a message sent by issuers of electronic cards, such as VISA, to member banks, whose cards are used for cash withdrawals. ATMs emit cash only after member banks give approval. In the latest cyber heist, the malware apparently gave ATMs the instruction to emit cash before the request to withdraw cash could reach the member bank.
"The malware allowed Chinese hackers to steal the money available in the ATMs without debiting bank accounts of depositors," Nepal Bankers' Association President Gyanendra Prasad Dhungana said.  This means the cash was not stolen from accounts of depositors but from the vaults of ATMs.
The cash was not stolen from accounts of depositors but from the vaults of ATMs.
The biggest cyber heist in Nepal's banking sector was noticed by Nabil Bank staff on Saturday after the ATMs ran out of cash though they were refilled on Friday evening. The hackers had used Prabhu Bank's debit card at Nabil's ATM to withdraw cash. Generally, an ATM holds Rs 2.5 million in cash.
"Normally, ATMs get lesser visitors on Saturdays and other public holidays. But two booths of Nabil Bank were emptied in a short duration, which drew the attention of bank staffers, who then informed about the incident to police," said Prabhu Bank CEO Ashok Sherchan.
Acting on information provided by bank staffers, police first held Zhu from the Durbar Marg-based ATM kiosk of Nabil Bank at around 4:30 pm, leading to arrests of four others from Maya Manor Boutique Hotel at Hattisar. Deputy Superintendent of Police Hobindra Bogati said, "Four of them were arrested from the sixth floor of the hotel when they were preparing to flee." Police, however, failed to arrest three other Chinese nationals, who were staying in the third floor of the same hotel. The racketeers had booked three rooms at the hotel.
Police have confiscated 132 duplicate and 17 original VISA cards, a card printing machine, six mobile phones, a laptop and a data card from the Chinese hackers.
Had the bank staffers not noticed the incident and informed authorities on time, the hackers would have emptied many more ATMs and fled the country, according to bankers.
The NBA has appealed to bank customers not to panic because of the cyber attack as their deposits are safe and intact.
Source:  The Himalayan Times